tel./fax: 0268 412 222 • mobil: +4 0721 431 601 • e-mail: contact@poiana-brasov.ro
Climbing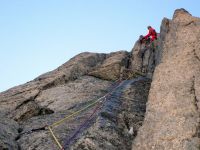 The region of Brasov offers you some unforgettable places for climbing up. We try to convince you that the mountaineering and the sportive scaling are present here, too, not far from Poiana Brasov.
There are several places where you can practice:
- Tampa
- Pietrele lui Solomon
- Cheile Rasnoavei

How do you reach Tampa?
(You set out the railway station from Brasov , town lying at the foot of Postavarul):
You get on the bus no.4 right in front of the railway and you get off at the Black Church. From there you can get easily to Poarta Schei. On the sketch you follow the red line to see the way to the cleve. We walk on a slow hill on Aleea Tiberiu Brediceanu, pass over a German military cemetery from the First World War and we reach Al. Petofi Street after walking the increasing steep. We keep left walking up till we see a path steep straining near the highest situated house. Now we steep climb up on Tampa Mountain. Soon we see a glade from where you can enjoy the town panorama. Then we follow a touristic path for 5 to 10 minutes. We take left and, after a short horizontal section, the path divides into two: go forward with the red triangle or take right to the Tampa Saddle( the blue mark).Right where the routes divide, you can see the path we need to follow to reach the cleve. It starts right near a heavy stone marked for touristic routes. Since here, the only problem that you encounter is the extremely steep. After 10 or 15 minutes we can reach the cleve. Good luck!

How do you reach Pietrele lui Solomon?
(You set out the railway station from Brasov , town lying at the foot of Postavarul):
You get on the bus no.4 right in front of the railway and you get off at the end, in Piata Unirii. From there, you get on the bus no. 12 till the end of the stations- Pietrele lui Solomon (it comes every half an hour during the week and every hour in week ends). You get off the bus and you can see the cleve Noua and Non Stop 200 meters farther. A little more farther you reach the other cleves. The camping place is near the Table of the Juni next to the concreted stage. From here you have enough paths to follow of all kinds and levels of difficulty. Good luck!
Cleves:
Grunwald 10 routes (-VII.VII+)
Non Stop 3 routes (VII.VII+)
Cariera 11 routes (VI-IX)
Central 16 routes (V+-X)
Traverseu 5 routes (VII-VIII+)
Merisor 5 routes (VI-VIII+)
Horn 3 routes (IV-VII)
Stanca lui Titus 3 routes (VII-IX)